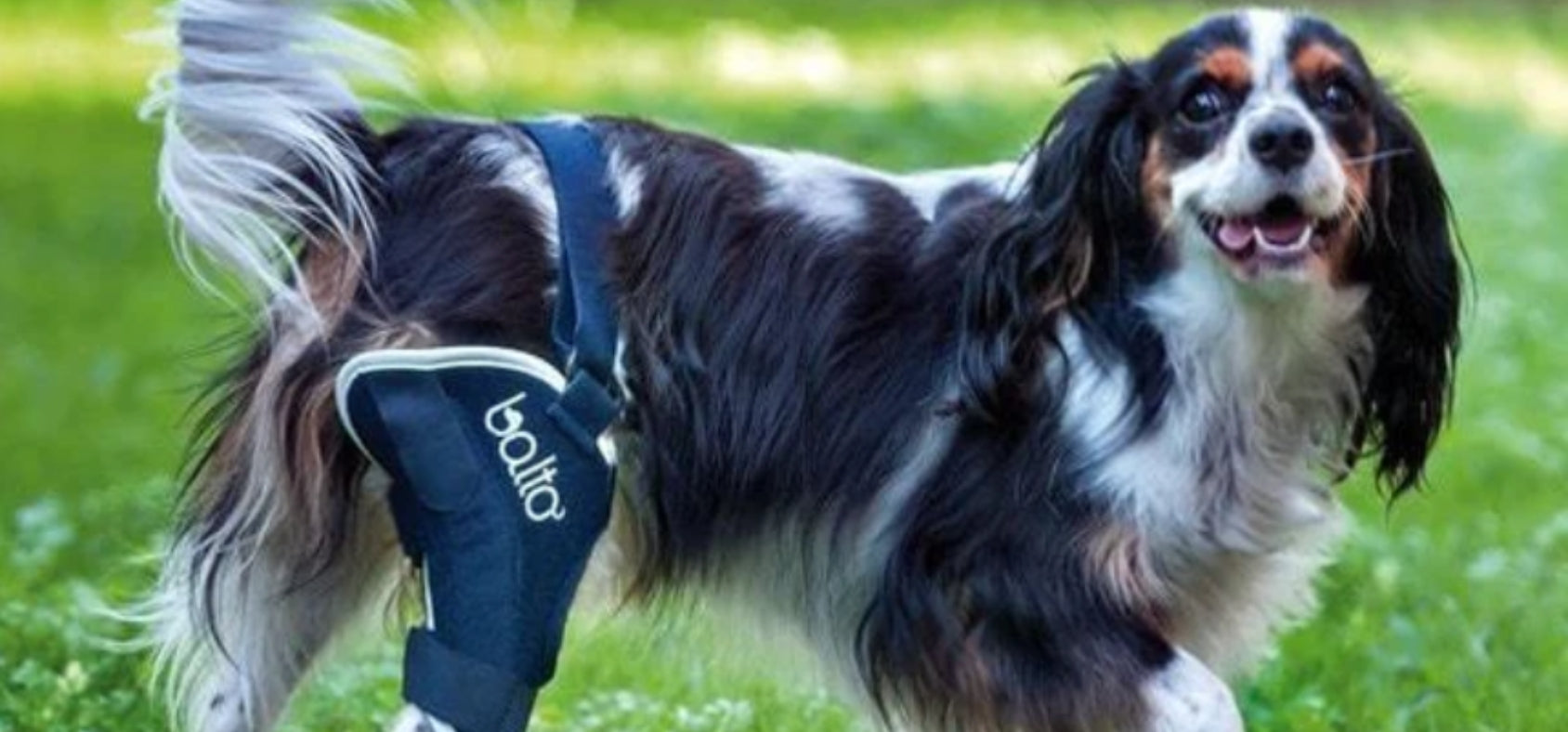 Support Brace for Dog Cruciate Injury
A torn cruciate ligament is one of the most common injury in dogs.
We have so many calls from dog owners who's dogs cannot have surgery for a variety of reasons, so need a solution to help the dog with their mobility. This type of injury requires rest, immobilization and often surgery for repair. The Cruciate Care Knee support offers therapeutic support and stabilization before and after surgery.
It is also useful in cases when surgery is not necessary or feasible.
Immobilization of the knee and leg helps reduce pain, inflammation and support during healing. In 60% of cases, a dog with a torn ACL will later injure the other knee. It is our hope that by stabilizing the injured knee as well as balancing the back and hip areas of the dog, further injury can be reduced.
Our unique and original butterfly design of the back anchor support of the knee brace also lends support to the lower back and hip areas to reduce strain from limping. By stabilizing and balancing the rear end of the dog, it may help prevent injury of the other knee or joints. We designed this brace to fit the natural angle of the knee to prevent it from hyper-flexing while still allowing limited mobility.
Flexible metal stays on either side of the knee aid in keeping the knee in it's natural position and foam padding at the knee offers a more cushioned support. The brace allows your canine friend to move easily and without strain on the joint. The Cruciate Care Knee brace is a soft brace, highly adjustable and is appropriate for dogs of all ages. Please click the buy now button to view the product in our web shop. Please visit our web shop to see the full range of dog hip braces, dog leg supports, dog leg splints and more 
Looking for help with your dog?
We can help find the right solution for your dog
Feel free to give us a call on 01730 622544
or email us at woof@zoomadog.co.uk