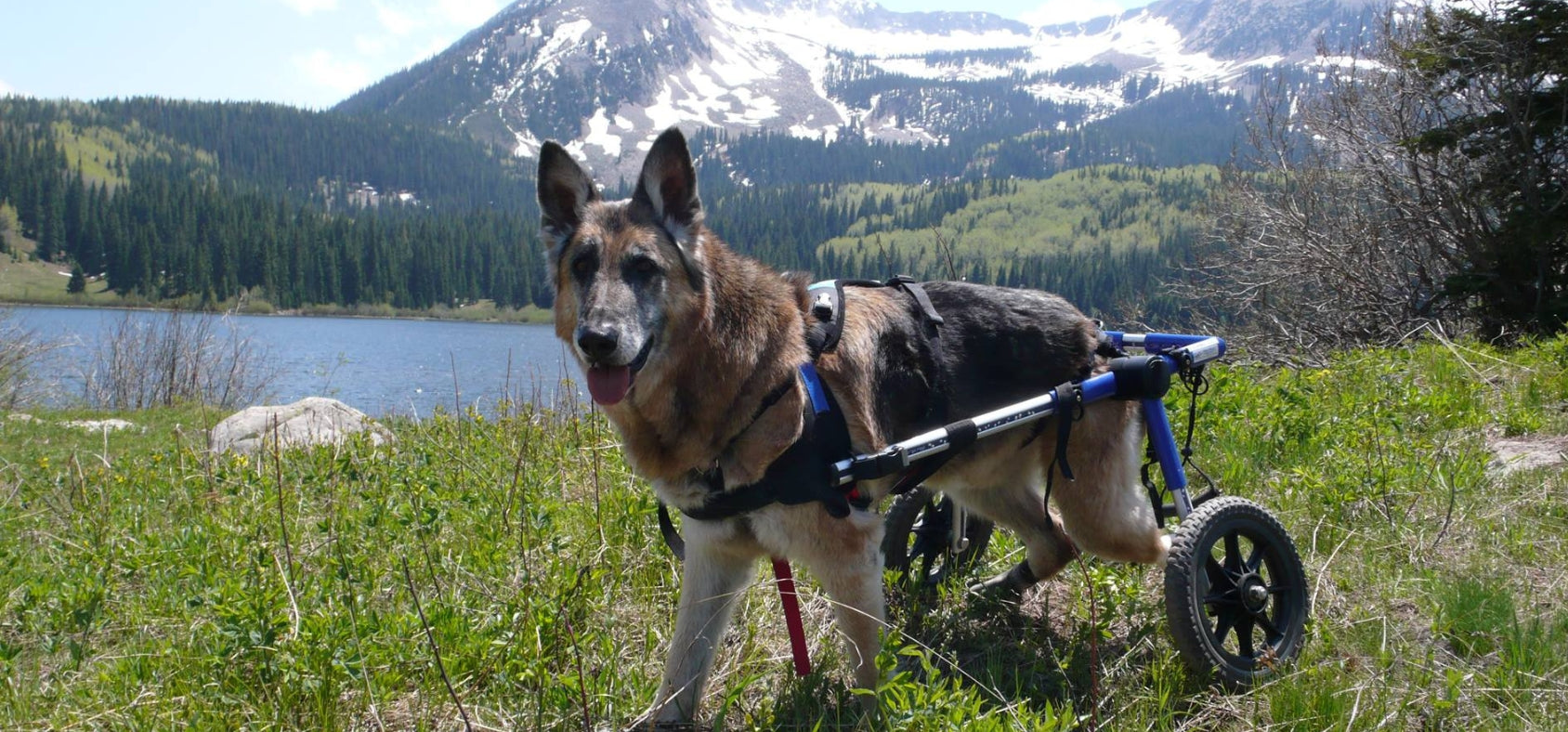 The Best Wheelchair for Dogs in the UK are Walkin" Wheels from Handicapped pets.....
The Best Wheelchair for Dogs in the UK are Walkin" Wheels from Handicapped pets.....
Without a doubt, after all the dog wheelchairs we have tried, the Walking wheels dog wheelchair from Handicapped Pets is by far the most superior product on the market. The wheelchair is beautifully made, sturdy and folds down for easy storage and movability. The product is very durable and all the parts are guaranteed. Comfort is so important when you fit your dog to a wheelchair, and many cheaper inferior wheelchairs cause rubs as well as general discomfort whilst being worn.
At Zoomadog we sell four sized carts and all the different wheels and struts to ensure your dog has the correct fit. We also sell from wheel attachments for dogs that have lost mobility in the from legs as well.
Veterinarian Approved. Pet Care Professionals have been waiting for an adjustable dog wheelchair that can be kept in stock and sold, rented or used for rehabilitative purposes.
The Adjustable Walkin' Wheels dog wheelchair is different from any cart that has been available in the past. So different, that it is often stocked and sold by veterinarians, rehab centers, clinics and pet professionals. The custom built carts of the past, of course, could not be stocked as they took weeks to build and required excruciating measurements. This veterinarian approved dog wheelchair is available for overnight delivery, and sets up minutes (see Instruction Video). This dog wheelchair offers all the mobility and comfort of custom carts with none of the problems.
Dogs and Pets can walk again.
Walkin' Wheels
is changing lives. A wheelchair designed specifically for dogs can help your best friend run and play again, go to the bathroom, get the exercise he (or she) needs, and live a happy, healthy life. Unique wheelchair design helps with animal's hip and leg problems including degenerative myelopathy (DM), hip dysplasia, arthritis, paralysis, slipped disc, soreness, spinal and neurological problems, surgical recovery, and more.
The perfect size with just a click.
The Walkin' Wheels is the only dog wheelchair that features push-button adjustability in height, length and width. It will fit any size dog 8 lbs and up. Simple snap buttons make it easy to adjust the frame in length, width, and height. Interchangeable snap-in wheels and struts are all that is needed to adjust the Walkin' Wheels for different sizes of dogs. Medium and large sizes fold flat for convenient transport and storage. 
Easy to order. Fast to ship.
The days of complicated measurements are over. We only need one simple, approximate measurement: Fold of Flank. This determines the correct wheel size for your dogs. The adjustable frame takes care of the rest. In addition, we usually ship the same day, so your wheelchair can arrive in a day or so. And if you're not in the United States, no problem. We ship to all worldwide international destinations.
Adjustable. Extensible. Resellable.
Walkin' Wheels is the ideal investment. Whether you're a private dog owner or a veterinarian, all our wheelchairs can easily be used on other dogs when they are no longer needed. Through simple snap-adjustments and optional parts, Walkin' Wheels is a future-proof purchase that you'll never have to throw away.
Lifting limits. And Legs.
Empower your dog. Maintain his/her health by providing exercise using the Walkin' Wheels. Going to the bathroom is no longer a chore - the Walkin' Wheels enables dogs to do their business without restrictions or mess. If the dog's rear legs are paralyzed, stirrups will prevent the rear legs from dragging. The days of putting down dogs due to mobility problems are over. 
Full support available.
Some dogs need the full support of 4 wheels. That's why we built the modular Front Wheel Attachment. It can be added to any Walkin' Wheels wheelchair to make it a quad. Order it along with your wheelchair, or add it later, should your dog need it.
Your money's worth. And then some.
The Walkin' Wheels box is packed to the brim with value. It contains everything you need to get your dog back to an active, healthy lifestyle and then some. When you buy a Walkin' Wheels, you get more than your money's worth. In fact, we had to redesign our boxes to fit everything. 
Looking for help with your dog?
We can help find the right solution for your dog
Feel free to give us a call on 01730 622544
or email us at woof@zoomadog.co.uk