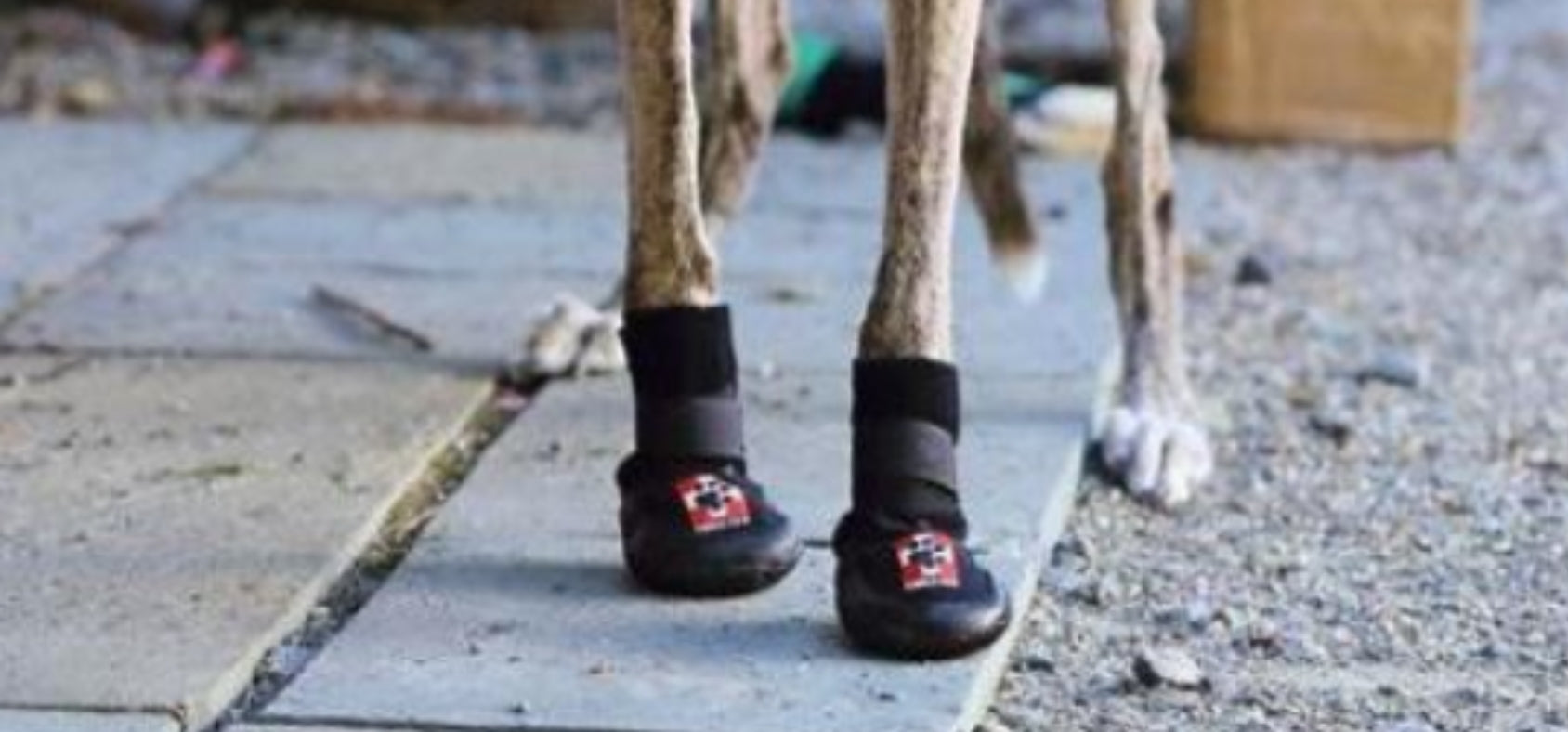 Therapaw Neoprene Protective Dog Boots
Our Top Quality neoprene dog boot for protection and comfort. The sole and toe are covered with rubber for grip and waterproof fitting, while the breathable sock liner allows movement. Available in 6 Sizes Full instructions provided with each boot.
The Thera Paw boot is easily cleaned by rinsing with warm water. Mild detergent may be used. It air dries in less than one hour, and is ready for immediate reapplication.
Measuring your dogs paw
Directions
1. Place a piece of paper on a hard floor surface.
2. Have your dog stand and bear weight with the affected paw on the piece of paper.
3. Trace around the outline of the paw, keeping the pen vertical and in continuous contact with the paw.
4. Determine the Paw Width (A) by measuring the paw tracing at its widest point.
5. Determine the Paw Length (B) by measuring the paw tracing at its longest point to the tip of the nails.
6. Determine the Wrist/Ankle Circumference (C) by measuring the circumference at the midpoint of the wrist or ankle.
7. Determine the Wrist/Ankle Height (D) by:
a. Measuring the height from the back of the main footpad to the base of the carpal pad (Front Leg).
b. Measuring the height from the top of the paw to the ankle joint (Back Leg).
8. Compare your measurements with those on the sizing chart to determine the correct Thera-Paw size for your dog.
Helpful Hints and Other Useful Information
1. If your dog has high knuckles and toes, please add a quarter inch to your Paw Width measurement.
2. If your dog is nervous about bearing weight on the piece of paper, lift his/her other paw off the ground.
3. If your dog is not able to bear weight on the affected paw because of pain or a wound, measure the same paw (Front or Back) on the opposite side AS LONG AS that paw is similar in size and shape.
4. If the affected paw is abnormally shaped in any way (e.g., toe amputation, digital deformities) please consult with us before purchasing the Thera-Paw boot.
We stock Therapaw dog boots as well as the full range of dog leg supports including, Tarso Flex X wraps, Carpo Flex X Wraps, and Carpo Flex Sports wraps. Please visit our shop to see the full range of dog rehabilitation products.
Looking for help with your dog?
We can help find the right solution for your dog
Feel free to give us a call on 01730 622544
or email us at woof@zoomadog.co.uk