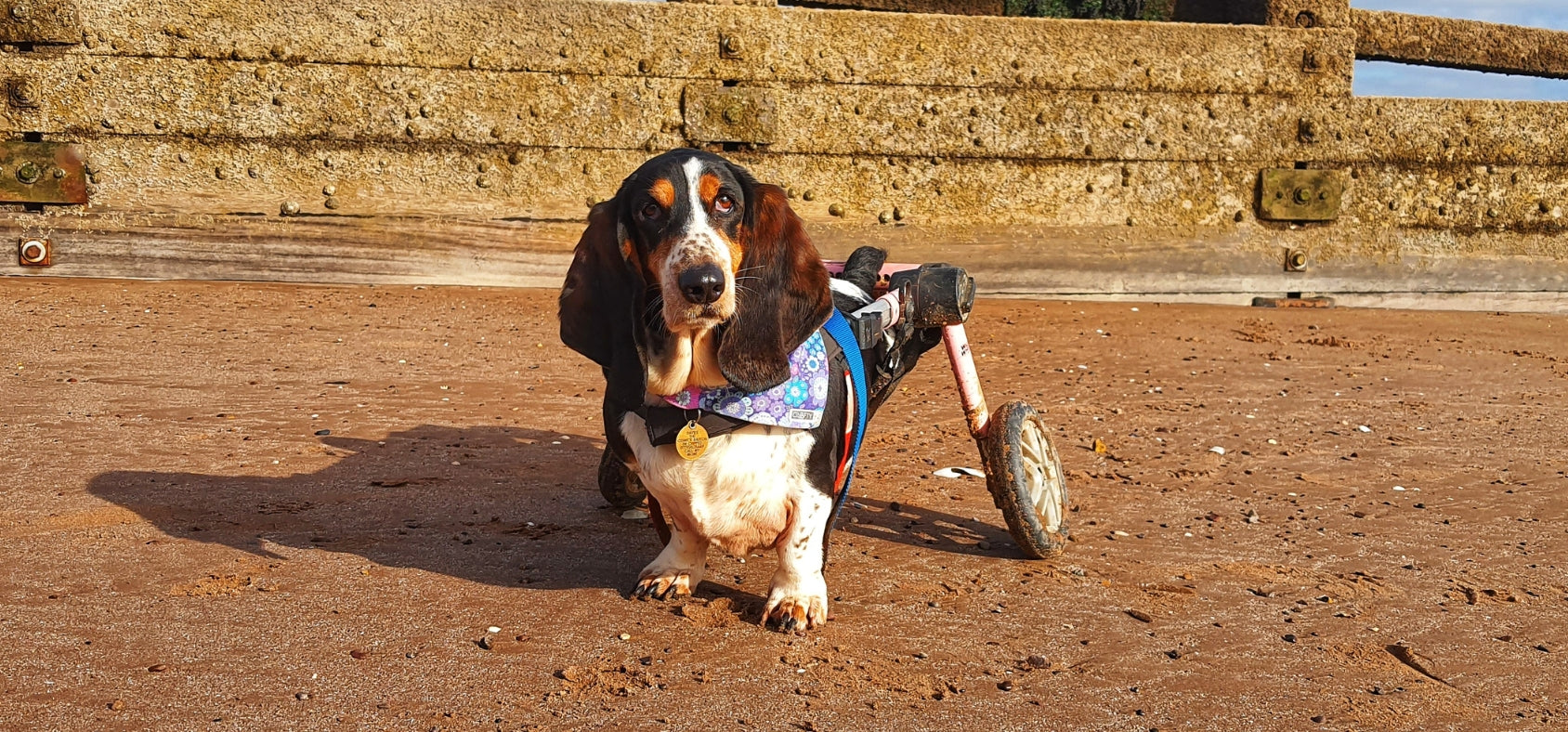 Walkin' Wheels Dog Wheelchair
This wheelchair is designed specifically for dogs - it can help your best friend run and play again, go to the bathroom, get the exercise he (or she) needs, and live a happy, healthy life. The unique wheelchair design helps with animal's hip and leg problems including degenerative myelopathy (DM), hip dysplasia, arthritis, paralysis, slipped disc, soreness, spinal and neurological problems, surgical recovery, and more.
The Walkin' Wheels is the only dog wheelchair that features push-button adjustability in height, length and width. Small/Medium/Large sizes will fit any size pet 8 lbs and up. The Walkin' Wheels Mini is specifically designed with very small pets in mind. This mini but mighty wheelchair is for toy dog breeds, cats and other small pets weighing between 2 and 10 lbs. The wheelchair is highly adjustable, extra wheels and replacement parts are easily obtainable, pets can toilet normally in the cart.
Simple snap buttons make it easy to adjust the frame
In length, width, and height. Interchangeable snap-in wheels and struts are all that is needed to adjust the Walkin' Wheels for different sizes of dogs. Medium and large sizes fold flat for convenient transport and storage. We only need one simple, approximate measurement: Fold of Flank. This determines the correct wheel size for your dogs. The adjustable frame takes care of the rest. A wide range of accessories is also available - Rear-Lift harness for extra support, Walkin' Drag bag, pneumatic air tyres for off-road and front-wheel attachments to create a quad (4 wheel) chair. Replacement wheels are readily available. Inside each wheelchair kit, the following is supplied:
Aluminuim wheelchair frame
Foam tyres (can be swapped for air tyres)
Front comfort harness with sleeves
Stirrups (can be used to keep the feet off the ground)
Width connector (provides extra inches if the dog is wide)
Building kit tools, instructions and DVD
Belly belt (optional for mid support)
Looking for help with your dog?
We can help find the right solution for your dog
Feel free to give us a call on 01730 622544
or email us at woof@zoomadog.co.uk