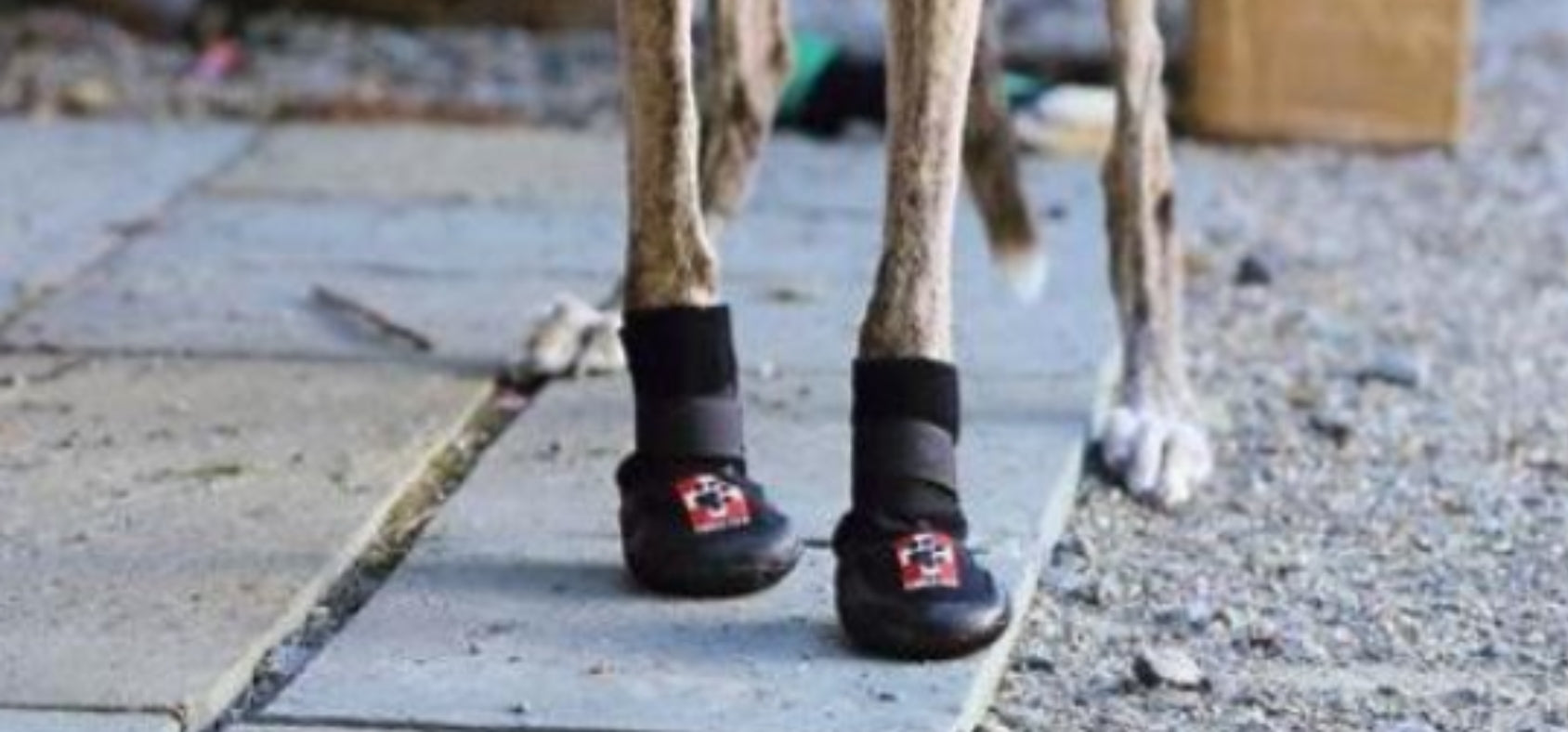 Why You Should Use Protective Winter Boots for your Dogs
With winter fast approaching, we have to start to consider our dogs comfort and warmth while out on walks. As well as a warm or waterproof coat for our thinner skinned dogs, we might want to buy some protective dog boots to help protect our dogs paws from the cold, winter chemicals and the wet. When purchasing a pair or boots for you dog, it is very important to get the correct size.
We find the best way to measure it to get you dog to weight bear on a piece of paper, and draw around the paw with a pen or pencil. Dog boots need to fit, be comfortable and they need to stay on! Dog need to be able to run, jump and even swim in them if needs be! As all dog are so different, you may not be able to find dog boots s that fit well, or your dog may just refuse to wear them, in which case you can take other steps to protect their paws. When you dog comes back on the house after a cold and wet winters walk, soak their paws for a few seconds in a bowl of warm water, then dry them thoroughly. (If he's a little dog, wipe down his legs and belly too.) You can also trim the fur between his toes to help reduce or prevent the build up of ice and snow there, which can damage the pads or cause your dog to limp. 
The Therapaw dog boot has ultra-cushioned interior pad which alleviates pain, reduces lameness, and promotes more even weight distribution. The perforated top sole and eye-hole design allow the paw to breathe, reducing moisture build-up at the injured site. These boots are great for dogs that suffer from corns, dogs that need protection for wounds or injuries to the paw to prevent infection, dogs that have has toes amputated and general protection from the environment.
As well as being fantastic in the snow and ice, the Active Protective Boots provide your dog with the support and protection their paws need especially after an injury. These protective dog boots feature robust grip for non-slip hold and are ideal for use on stony ground, tarmac or hot sand. The boots have a non slip grip sole and reflective side strips for added safety. Thes boots suits dogs with longer less boxy paws. 
Our Walkin Traction Socks for dogs, have a wrap around non slip waterproof base and are designed for both indoor outdoor use. These non slip dog socks have a waterproof silicone gel sole to keep your dog from slipping or splaying out on slippery or smooth flooring. The upper sock is warm and cozy with a detachable strap to keep socks in place. Great for senior and tri-pawed dogs who need more traction on slick surfaces and protects your hardwood floors at the same time!  
Use it before you go out for a walk to protect against the irritants on the ground. Salt on the road during winter months, salty water and sand from the beach, chemicals applied to the fields and pathways Max Wax presents a repellent barrier between the irritant and your dog€™s paws, protecting them against burning, cracking and itching. It prevents ice and snow buildup in and around the toes. In hot weather it provides a barrier against the fiery heat of the road and sand. 
Looking for help with your dog?
We can help find the right solution for your dog
Feel free to give us a call on 01730 622544
or email us at woof@zoomadog.co.uk