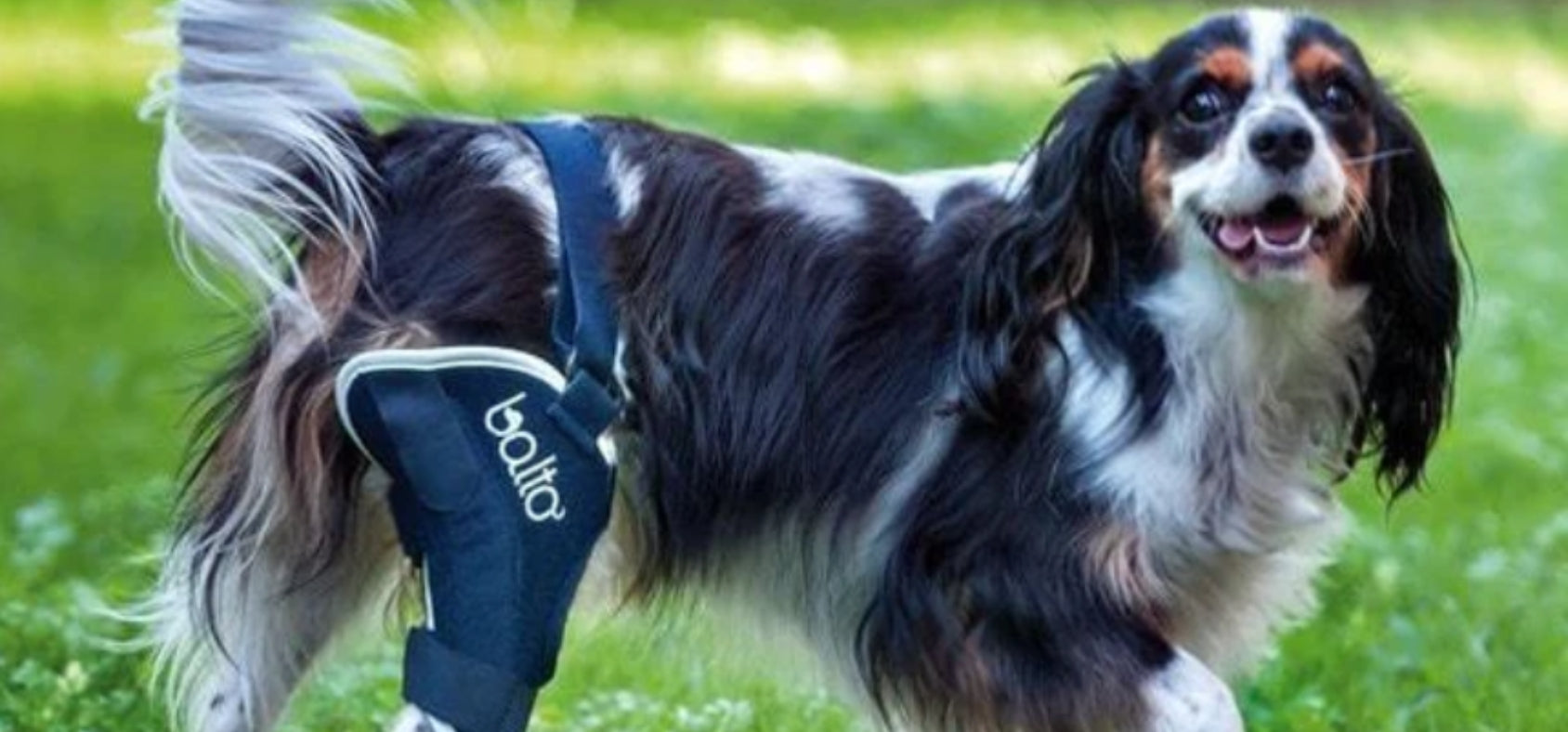 Cruciate Knee Braces For Dogs
Has you dog recently damaged their cruciate/ knee. Our cruciate braces for dogs are great for support and stability post surgery and pre surgery.as well as for longer term use if you want to conservatively manage the issue. A torn ACL is the most common injury in dogs. This injury requires rest, immobilization and often surgery for repair.
Offers therapeutic support and stabilization before and after surgery. It is also useful in cases when surgery is not necessary or feasible. Immobilization of the knee and leg promote reduced pain, inflammation and support during healing. In 60% of cases, a dog with a torn ACL will later injure the other knee. It is our hope that by stabilizing the injured knee as well as balancing the back and hip areas of the dog, further injury can be reduced.
To suit each dog, as what fits one may not suit another. We have splinted braces for a higher level of immobilisation and soft braces for a lighter support. Our unique and original butterfly design of the back anchor support of the knee brace also lends support to the lower back and hip areas to reduce strain from limping. By stabilizing and balancing the rear end of the dog, it may help prevent injury of the other knee or joints. We designed this brace to fit the natural angle of the knee to prevent it from hyper-flexing while still allowing limited mobility. Flexible metal stays on either side of the knee aid in keeping the knee in it's natural position and foam padding at the knee offers a more cushioned support. The brace allows your canine friend to move easily and without strain on the joint.
The Cruciate Care Knee brace is a soft brace, highly adjustable and is appropriate for dogs of all ages.
Indications for use:
ACL tear (anterior or cranial cruciate ligament) of the knee
Strain/sprain of the knee joint
Back leg limping, instability or fatigue
Post operative support
Arthritis
Indication for knee stabilization Brace Materials:
Spacer mesh material light weight, dries easily, washable, molds to fit dog's body
Stainless steel hardware
Nylon side squeeze buckles
Nylon wide-mouth slip locks
Nylon low profile strap keepers
Heavy and light weight nylon webbing strength, flexibility, adjustability Commercial grade nylon Velcro
Metal stays lateral stability Embroidered Ortho Dog emblem sewn on brace
Nylon draw-string mesh bag for easy storage Braces sewn by local sewers Cruciate Care Dog Knee brace is a non-rigid brace designed for dogs who suffer from a torn ACL (anterior or cranial cruciate ligament), sprains or strains of the canine knee, back leg limping or fatigue, arthritis, post-operative support and stabilization or when knee immobilisation is needed. It is possible to purchase the product with an extra knee part so both cruciate are supported, this is recommended only for younger more mobile dogs. Check the girth of your dog's chest for more accurate sizing.
Measure the girth just behind the dog's front legs and around the torso.
Medium - 20-28"
Large - 28-36"
Looking for help with your dog?
We can help find the right solution for your dog
Feel free to give us a call on 01730 622544
or email us at woof@zoomadog.co.uk