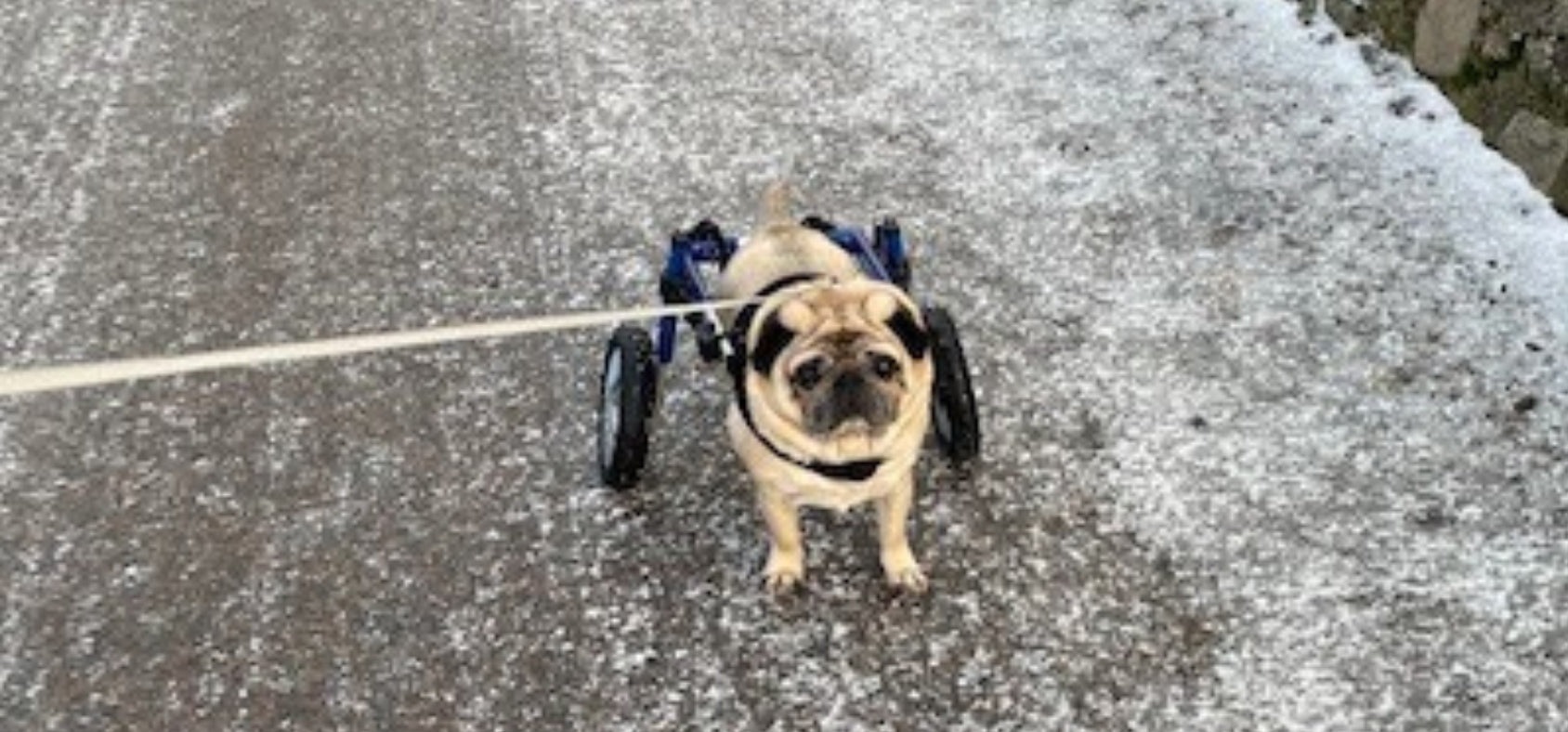 FAQ's about Walkin' Wheels Dog Wheelchairs
Q. How long can I keep my dog in the cart?
Answer: In most cases, a dog can be in the cart up to 1-2 hours each time. This varies quite a bit, though, from dog to dog. It is important to watch for signs of fatigue, weakness or chafing. Some short legged dogs like Corgis or Dachshunds can lay down in the cart, up against a pillow bed for short naps. The cart is intended to help animals get exercise and physical therapy rehabilitation.
Q: How accurate do I need to be with my measurements?
Answer: Your Fold of Flank to Ground measurement determines which wheel and strut combination we send you. Each set can adjust two to three inches in either direction. If you measurement is near the edge of one of the sizes then a wrong measurement could mean having to send back the wheel and strut and exchanging it for another.
Q: Will this wheelchair accommodate the growth from medicines or weight gain?
Answer: Yes, Absolutely! This is an adjustable cart. If your pet grows significantly, you may need to get a new set of larger wheels. These are available on the website.  
Q: My puppy isn't fully grown, Will I need to buy another cart at that time?
Answer: No, you will not need to buy a new cart. The Walkin' Wheels dog wheelchair is adjustable. You may, though, need to buy a new set of wheels. Q: My dog has a big belly; do you offer a padded belly strap to help support his middle weight or long back Corgi or Doxy?
Answer: A padded Belly Belt comes with every cart for added support on the belly region.
Q: My dog's rear legs are dragging on the ground. Do you offer something to keep them from dragging?
Answer: Yes, we include stirrups with the cart. For added comfort, use the boot/stirrup kit that allows you to attach his boots to the back of the cart, keeping them off the ground.
Q: Can dogs or cats defecate or urinate while in the cart without soiling it or themselves?
Answer: Yes. Dogs naturally urinate and defecate standing up. If they soil the harness, it is easily washable.
Q: If anything on the cart wears out, can I get it replaced?
Answer: Yes, every component of the cart can be repaired or replaced. Order parts online or call us.
Q. How long has this cart been in use?
Answer: This cart has been the top-selling dog wheelchair since August 2008. It has been approved by veterinarians and reviewed on Animal Planet, Good Morning America, and dozens of shows and magazines.
Q. Do you have any referrals or past customers that I can talk to about your wheelchair?
Answer: Thousands! There are testimonials on the Walkin' Wheels website, a Facebook community where you can meet with other users, and a Help Advice Forum on the website.
Q. Can my pet go in the water with this cart?
Answer: Yes, just rinse it off after usage.
Q. Can my pet lie down in this cart?
Answer: No, with the exception of some very short-legged dogs, your pet cannot lie or sit down. If your pet appears tired, take him out of the cart.
Looking for help with your dog?
We can help find the right solution for your dog
Feel free to give us a call on 01730 622544
or email us at woof@zoomadog.co.uk