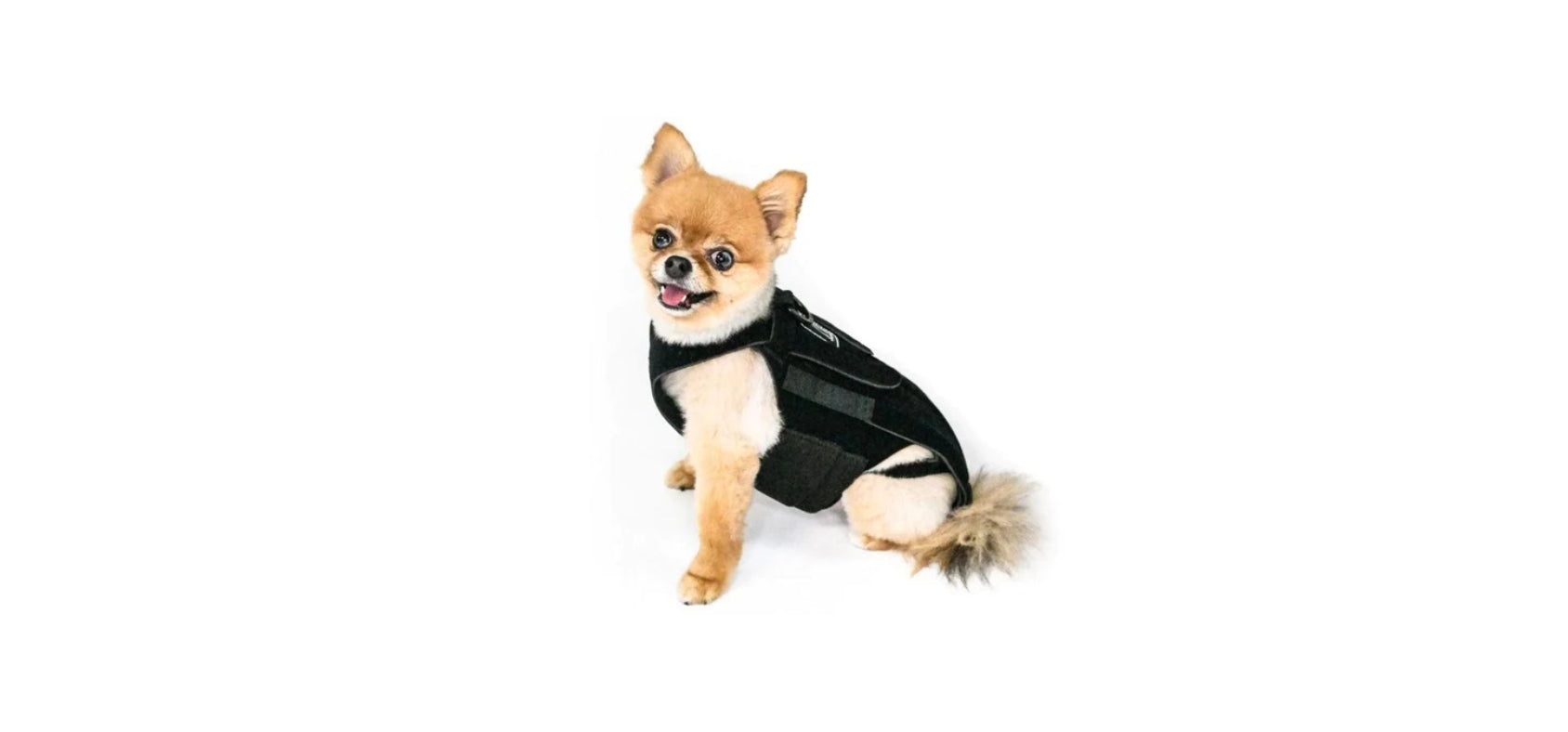 Lil Back Bracer - The Best Back Brace For Dogs
The
Lil Back Bracer
 for dogs provides support and stabilisation for dogs suffering from IVDD, Slipped Discs, Arthritis, Old Age and Back Injury. The
Lil Back Bracer
is the best orthopaedic support brace for dogs on the market. Patented design to help keep your dog's back supported when dealing with Intervertebral Disk Disease (IVDD) and other dog back pain. Primary features of the Lil Back Bracer dog brace:
Comfortable, ergonomic construction to alleviate pressure on spine
Dog brace designed to stabilize the back from above below
Recommended for both treatment and prevention
Snug, adjustable fit provides gentle, constant pressure for calming effect on nervous system
Incorporated D-ring to attach a leash
Easy to take on and off
Medical grade, moisture-wicking, Breathe-O-Prene® fabric
No need to remove dog brace for dogs to "do their business€
How does the L'il Back Bracer provide support? The L'il Back Bracer is an orthopedic support garment for dogs suffering with IVDD or other back injuries. The brace is made of a very high quality breathable and antimicrobial neoprene that is very comfortable for your dog. There are stays that line the back and abdomen to provide the needed support and stabilization of the spine.
How often should my dog wear the brace? It depends on you and your dog. Some pet parents will put the back brace on all day while some just use our back brace for walks or times of high activity and play. The back brace is flexible, so it allows the muscles to engage and work, it is not like a stiff cast. This is important so that the muscles do not become weak from wearing the brace. *Please note that our dog back brace is not meant to replace the crate rest period that is prescribed by your Veterinarian.
Can my dog do their business while wearing this back brace? Yes, our back brace fits in a way that leaves that area of your dog free to take care of business without the brace blocking that part of their body.
Does my dog need to have a separate harness for walks? The L'il Back Bracer has an attached D ring so when taking walks the brace acts as a harness. Just attach the leash to the ring and enjoy a safe supported walk.
How do I care for the brace? To clean the brace just hand wash and lay flat to dry. For removing hair, we have found that a rubber pet hair remover brush works best.
Can my dog jump with the brace on? The L'il Back Bracer stabilizes the spinal column (from about where a collar would sit) and its snug fit provides overall comfort. While all dogs and all cases can vary, the L'il Back Bracer has successfully helped in many cases with increased mobility and relief. The feedback we have received on dogs regaining their mobility or at least increasing it has been tremendous. As far as "jumping", it depends on whether your l'il one will continue to jump with the brace on. Our L'il Back Bracer's design is flexible, not like a stiff cast, so they are able to move as they normally would - just with a l'il support. Some dogs keep real still with the brace on and do not jump or run due to the calming effect the snug fit has on the nervous system, while some dogs resume their normal activity while wearing it.
Will my dog get muscle atrophy from the L'il Back Bracer? No. Our back brace is lightweight. Helps give support down the spine.
What if my dog doesn't like it? It is common for dogs not to like a brace. A natural thing for them is to sit still. Or perhaps even whimper with it because they aren't sure what to do with the brace on. To help with this, we recommend a break-in period of 30 minutes on and 30 minutes off. Give your dog a treat and praise him/her for wearing the brace. This will hopefully allow your l'il one to associate the brace being a good thing. Increase the amount of time each day.
Can the brace be worn in the water? Yes. The material is a breathable, neoprene material. Recommended washing instructions is: hand wash and then air dry.
HOW TO USE
1. Slip the body portion over the dog's head.
2. Put one front paw through the loop, then the other.
3. Place the dog brace over the rear legs next.
4. Adjust the velcro on the brace at the chest using the front straps. It should be snug for support.
5. Adjust velcro at the rear, pulling up or by criss crossing straps.
ARE THERE DIFFERENT SIZES AVAILABLE?
To see which of our three sizes your dog should wear: weigh your dog and measure from shoulder to tail. The braces can also be adjusted by simply tightening the body, the shoulder and leg straps. Our Back Brace can be used for small breeds of dogs such as Dachshunds, Pekingese, Beagles, Corgi, Shih Tzu, Maltese, and other small breeds.
Small
Weighs less than 12 pounds Measures between 10 and 13 inches
Medium
Weighs between 12 to 22 pounds Measures at least 13 inches
Large
Weighs between 22 to 32 pounds Measures at least 15 inches
Looking for help with your dog?
We can help find the right solution for your dog
Feel free to give us a call on 01730 622544
or email us at woof@zoomadog.co.uk