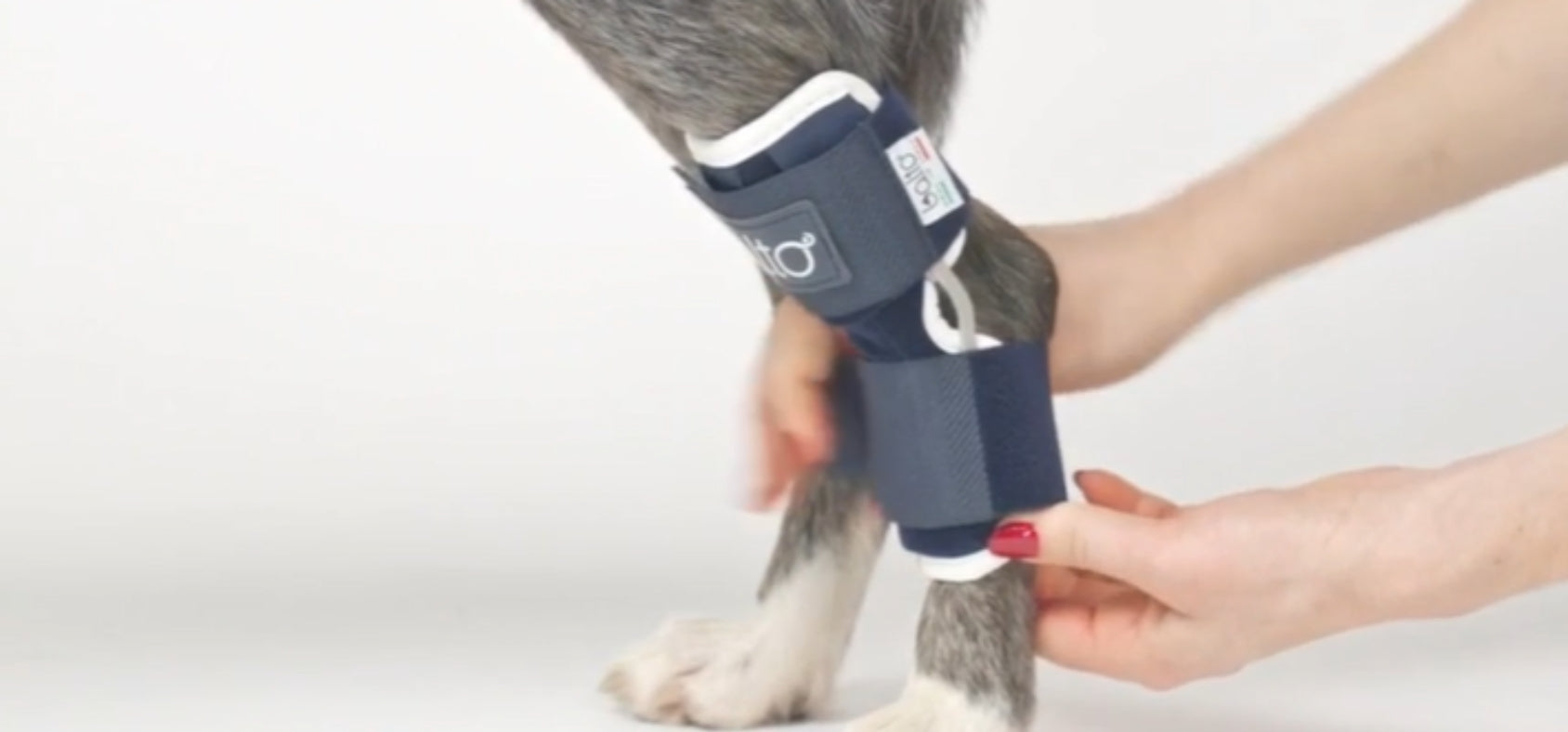 Hock injuries in Dogs
The dog's hock (tarsus) is a complex series of joints which connect the paw in the rear leg to the shin bones. It can be damaged by trauma and over extension. Agility dogs, less active breeds, puppies and elderly dogs are all at risk - however active dogs are more likely to injure through over extension. Areas particularly at risk include the achilles tendon, gastrocnemius muscle, ligaments and displacement of the superficial digital flexor tendon elongation. Additionally the hock joint can be affected by orthopaedic conditions such as OCD (osteochondritis dissecans) and osteoarthritis.
Signs of hock injury:
lameness in the rear leg
swelling
signs of pain and discomfort
walking shorter distances
slow pace
rear leg weakness
changing position when sitting - sitting with the leg out to the side and / or extending the leg
Diagnosis:
Hock injuries can be diagnosed through a veterinarian or a physiotherapist. A physical exam and / or an X-ray can confirm the injury and the extent of the damage
Treatment:
Cold-packs can reduce swelling. Apply to the hock for periods of 10-15 minutes up to 4 times a day
Glucosamine supplements - similar to human joint supplements, they promote healing of the joint and reduce discomfort. You can obtain these through your vet or on our website. We have several different types, all are natural supplements and can be used in conjunction with any other vet medication. GlycanAid HA contains a high dose of Glucosamine with added Hyaluronic Acid in a chewable tablet form. Flexerna is a natural omega-3 supplement for dogs with an anti-inflammatory.
Soft supports provide some help for your dog if it has a mild-moderate tendon muscular injury. They don't impact the natural movement of the leg and can also be used after surgery to provide support whilst recovering and long-term. Orthodog hock holder is a mild support for the area, Tarso Flex X is a thicker and stronger support which can be customised to your dog's shape and features additional removable support.
Splint supports immobilise the hock area and joint, it is ideal for Achilles tendon injuries. The Handicapped Pets Hock Splint has a hard outer plastic shell and a soft inner lining.
Hybrid supports are a merge of a soft and splinted leg support. The Balto Hock Brace features two removable splints. These can be put in to stabilise the hock when your dog is exercising and removed to give a soft support. This is the ideal support for many dogs, as it can be used long-term as a preventative soft support when the injury has recovered.
Looking for help with your dog?
We can help find the right solution for your dog
Feel free to give us a call on 01730 622544
or email us at woof@zoomadog.co.uk